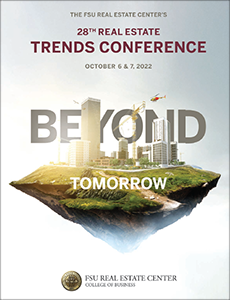 The FSU Real Estate Center hosted the 28th Real Estate TRENDS Conference on Thursday, October 6 and Friday, October 7, 2022. This distinctive event was 100% in-personand had 650+ registrants.
Visit FSUTRENDS.com for detailed conference information including featured speakers, conference schedule, registration information, hotel accommodations and more!
SPONSOR OPPORTUNITIES
Thank you for the generous involvement in this event which supports the mission of the FSU Real Estate Center and the delivery of student learning experiences year-round. Your support has been key to the success of the conference hosting prominent speakers such as Mary Erdoes, Steve Forbes, Kathleen McCarthy, Jack Nicklaus, Wilbur Ross, David Rubenstein, Barry Sternlicht and many others.